I don't want to leave the site without content for so many days in a row. Because of that, I will be adding new extra content, so hopefully, you'll like it.
For now, I came up with the simple idea of adding a plot to visualize the pit stops that happened during the race. The chart itself is self-explanatory, but just in case, let's see what information it has:
The x-axis has each team that participated during the race.
The y-axis has the total number of seconds.
The bars are divided and stacked based on each pit stop for each team.
The big numbers at the top show the average pit stop time for each team.
The small numbers within each section of a bar represent the time for that particular stop.
The driver number within each section of a bar is just for looks ;)
Caution
A shorter total bar isn't necessarily better. Teams with fewer pit stops will tend to have shorter bars. The mean time is the most important metric to take from this chart.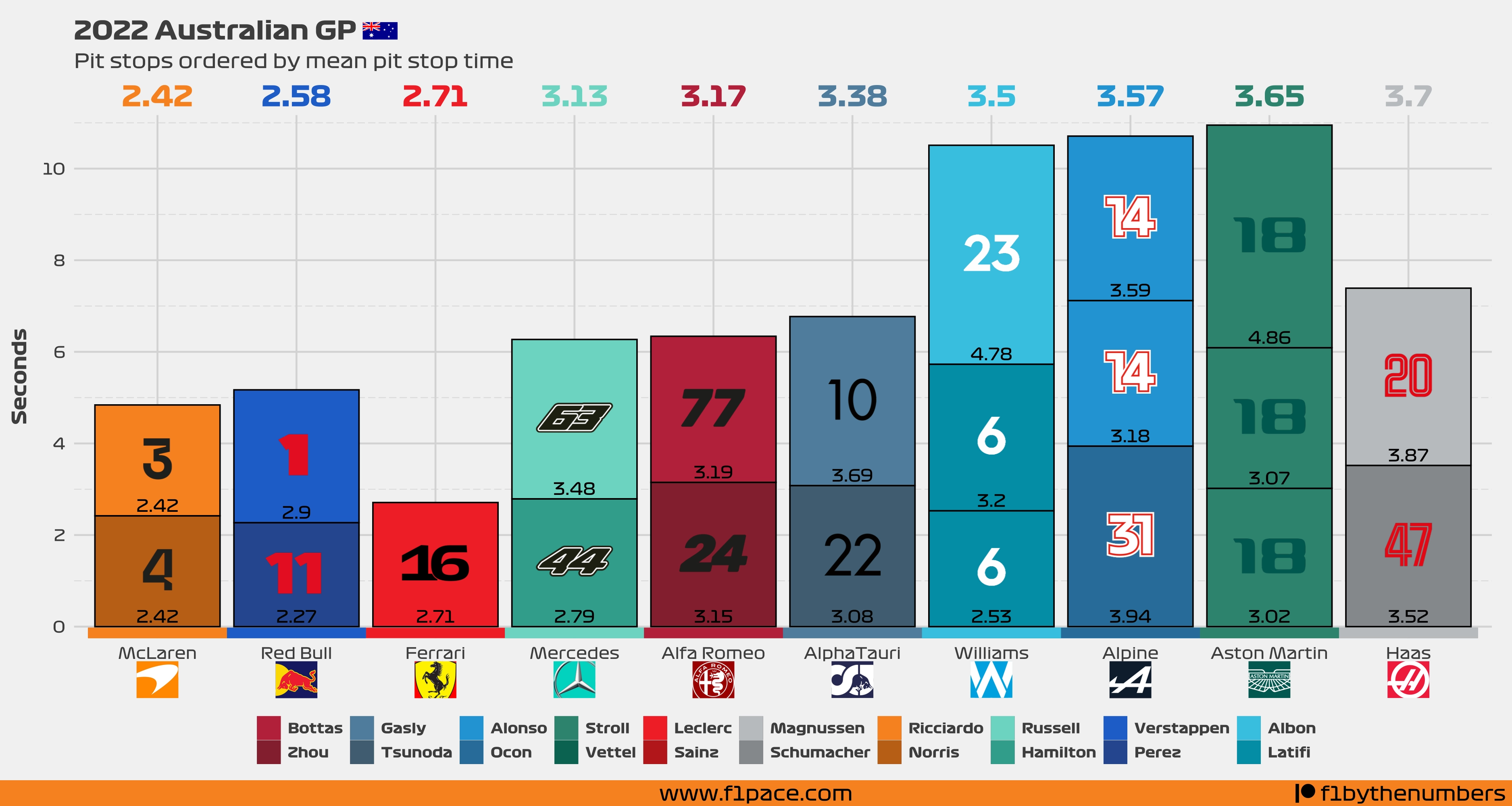 Analysis
This time we can see that McLaren took the top spot. Two stops, both with the same time of 2.42 seconds. Red Bull had the fastest pit stop of the day—a 2.27 stop—but their other stop was of 2.9 seconds, totalling an average time of 2.58 seconds. Ferrari joined McLaren and Red Bull in being one of the only three teams to have an average pit stop time of fewer than 3 seconds.
The rest of the field looks pretty even. Both Williams and Aston Martin had a stop of over 4 seconds which skews their average quite a bit. Mercedes and Williams both had a sub-3 second stop, with Williams having an impressive stop of just 2.53 seconds.
I haven't done this analysis for previous races, but it seems like Haas continues to have the worst pit crew in Formula 1. Last season it didn't matter because they were not competitive, but this season it seems like having slow pit stops could be more problematic.
Final remarks
I hope you are enjoying the content. I plan on adding more charts of pit stop data in the next few weeks. Let me know in the comments below if you're interested in that. As usual, if you like the content, please share it on social media. If you want to support me you can click on the "buy me a coffee" button below and give a donation.