Leclerc was poised to take victory at the F1 2022 Monaco GP. However, he ended the race in a disappointing 4th position. What happened? Let's take a look at some of the main events that led to this unfortunate finale for the Ferrari driver.
The first pit stop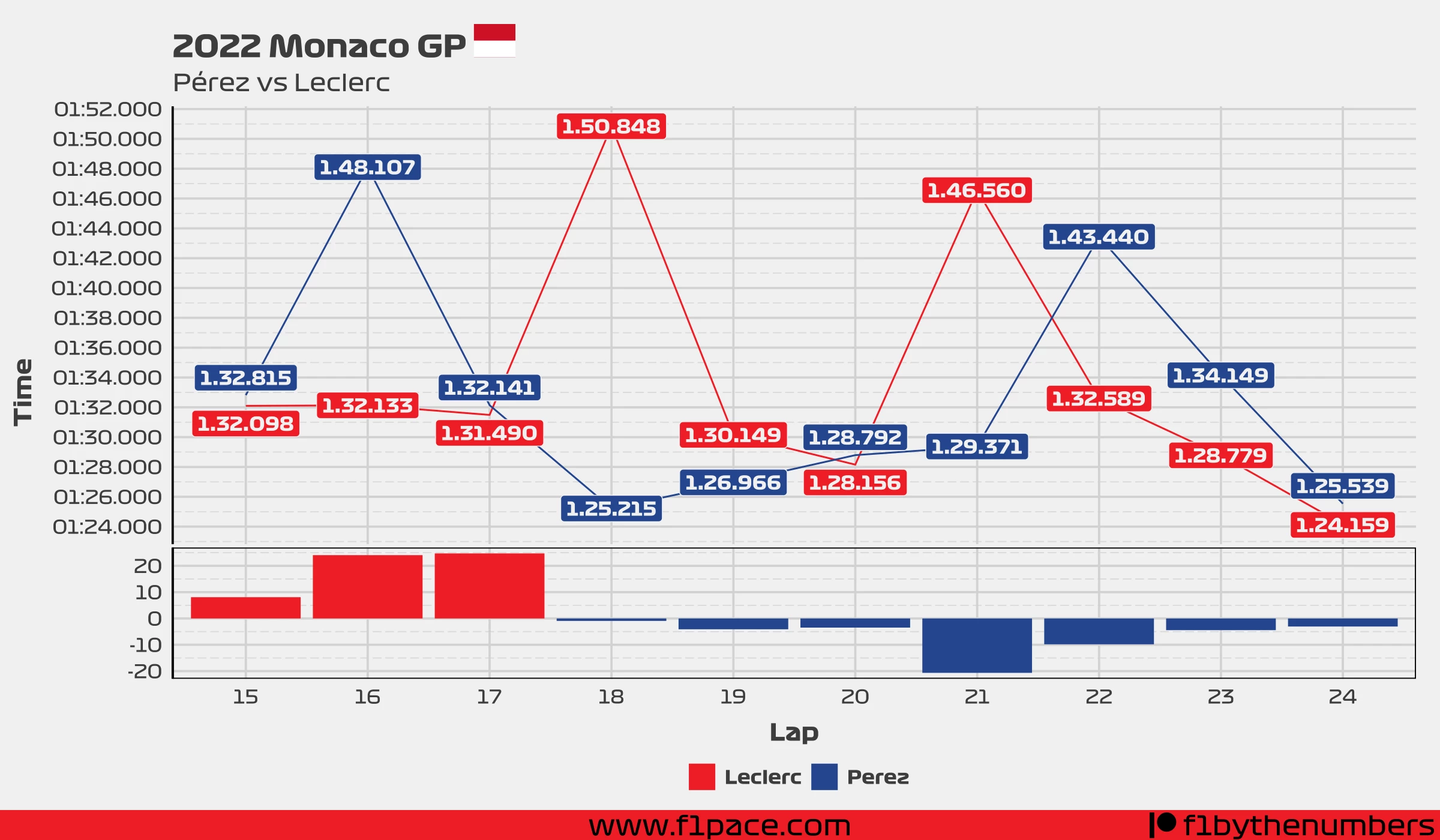 Ferrari's first mistake came on lap 16. Red Bull sent Checo for new tires during that lap, giving him what appeared to be the preferential strategy. While Red Bull went with an aggressive strategy, Ferrari decided not to respond, keeping Charles out of the pits for an extra lap. Sergio's in-lap had a time of 1:48.107.
Take a look at the little chart at the bottom shows the delta between Checo and Charles. Positive times mean that Charles was ahead, while negative times means that Checo was ahead.
By the time Sergio went to the pits in lap 16, Charles had a time advantage of around 8-9 seconds. With a pit loss time of around 16 seconds, this increased the time delta between Charles and Sergio to 24.057 seconds in favour of the Monegasque.
Checo's out lap—lap 17—was a 1:32.141, compared to Leclerc's 1:31.490. However, Sergio was just warming up the tires, and the out lap is not a complete lap since, well, he was in the pits. By the end of lap 17, the gap between him and Charles had increased to 24.708 seconds.
Ferrari decided to send Charles to the pits two laps after Checo, on lap 18. This is where it all went wrong for Ferrari. Sergio had a blistering lap 18, setting a time of 1:25.215. This lap was 6.275 seconds faster than Charles' previous lap. To make matters worse, Charles had a worse in-lap than Sergio—1:50.848 vs 1:48.107—reducing the gap by an extra 2.741 seconds. This added up to a total of just over 9 seconds in favour of the Mexican driver. By the time both drivers crossed the finish line at the end of lap 18, Checo was already ahead by almost 1 second, and Charles still had to leave the pits before rejoining the track.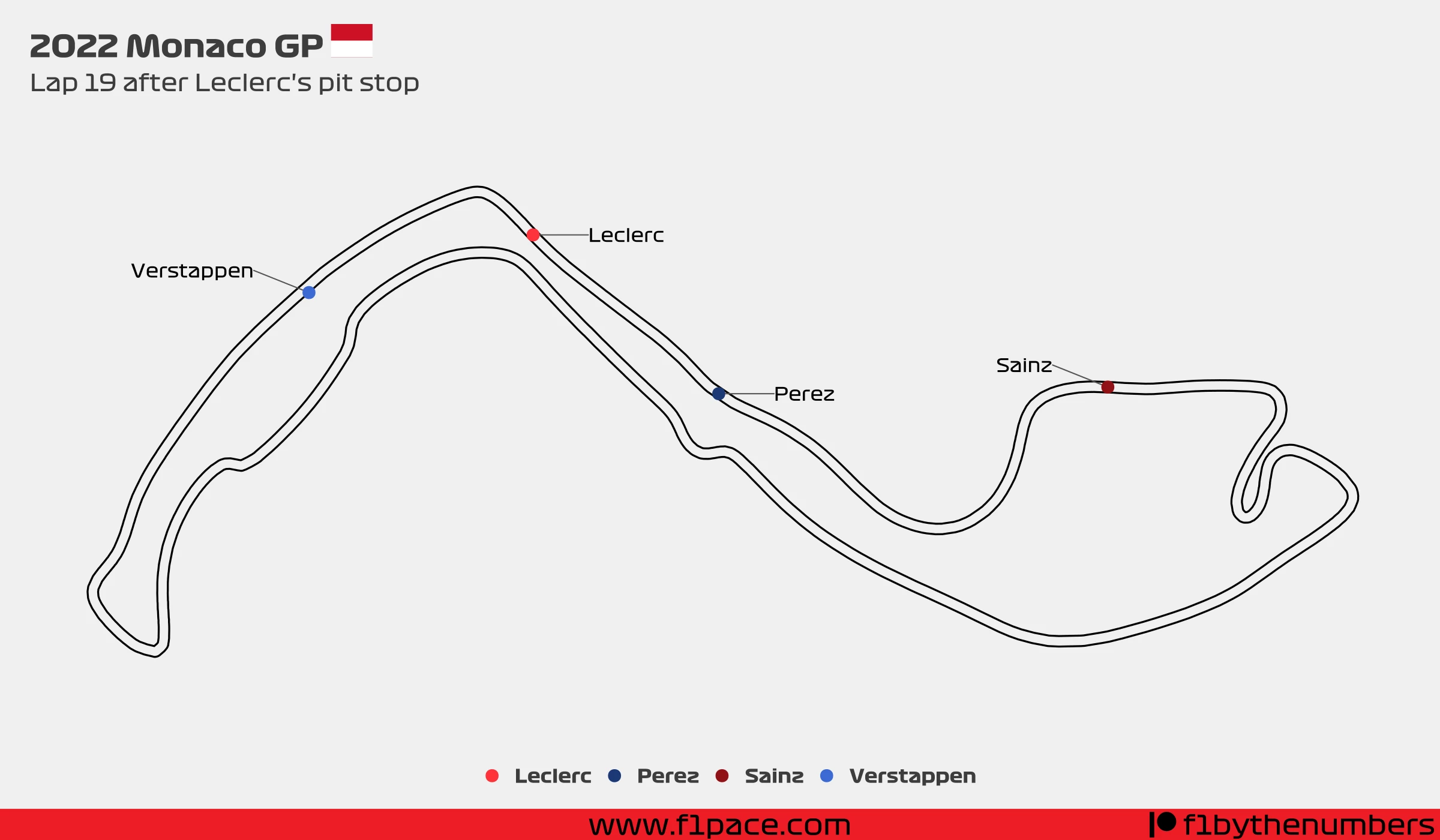 We can see the position of the top 4 drivers on lap 19, just after Leclerc had rejoined the racing track. Pérez was already comfortably ahead of Charles. Knowing that in Monaco track position is extremely important, Charles had most likely already lost the race.
Leclerc vs … Albon?
Charles Leclerc had an uneventful lap 19, trying to warm up the tires before attacking on lap 20. He, however, found himself behind Alex Albon on lap 20. Alex was shown blue flags but didn't move out of the way until he made a mistake at T1 (Sainte Devote).
It's difficult to say how much time Leclerc lost behind Alex since we don't have a lot of data. Charles' lap 19 is incomplete—it's an out-lap—and lap 21 is also incomplete since he went into the pits for the second time on that lap. What we can get from those 3 laps is the time between the exit of the pit lane and the entry of the pit lane at the end of the lap.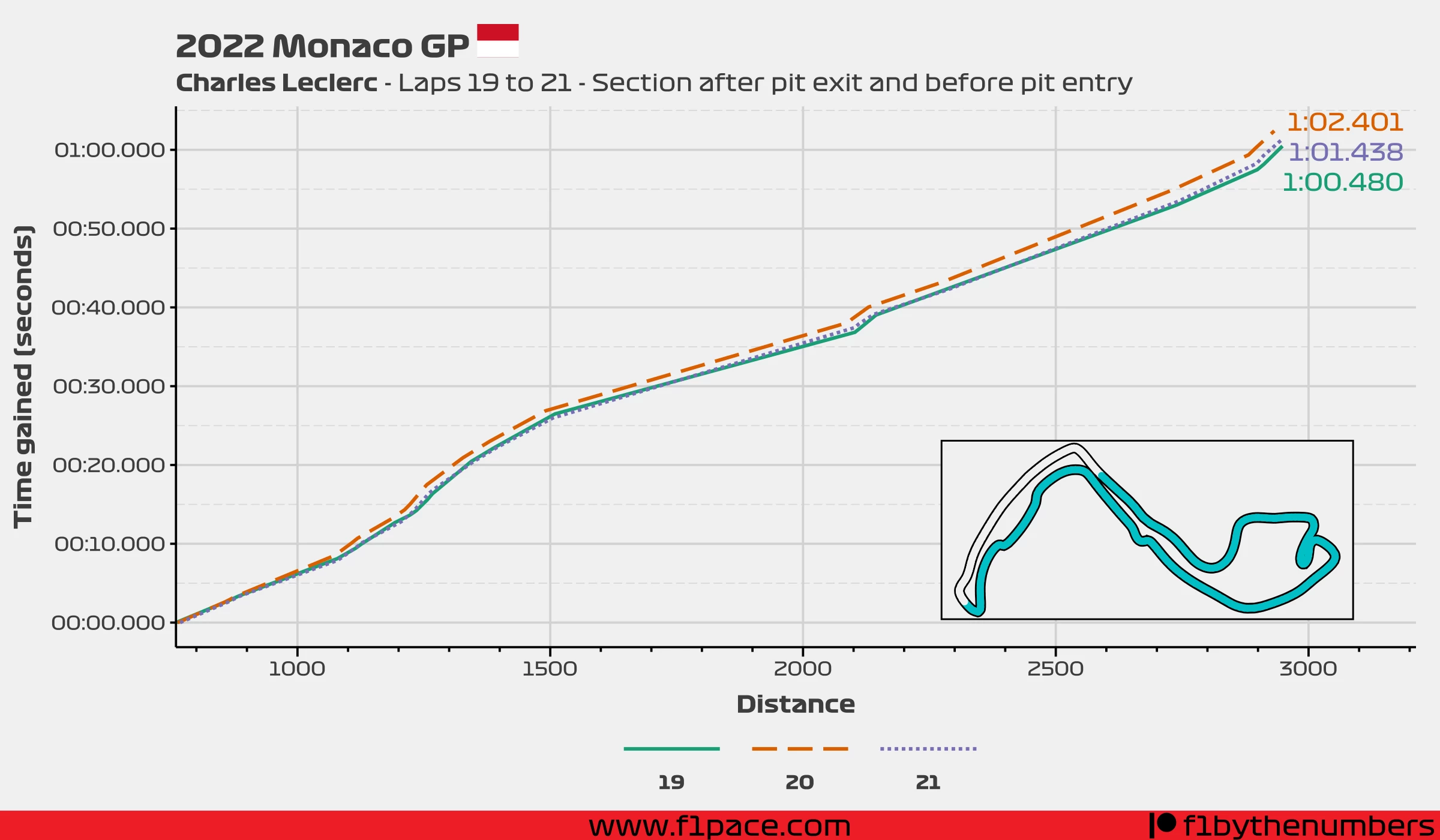 During that section of around 2600 metres, Leclerc had his slowest time on lap 20 with a time of 1:02.401. During his out-lap, his time was of just over 1 minute—1:00.480. During lap 21, he did a time of 1:01.438.
If we assume that Charles could've done a similar time in lap 20 as the time he did in lap 19, then we can say that Charles lost almost 2 seconds behind Alex just in the highlighted section of the track. If we add the time lost in the remaining section, then we can assume that he lost between 3 and 4 seconds behind the Williams driver.
How costly was this?
Let's take a look at the position of the drivers just after Verstappen stopped for new tires on lap 22, just one lap after Leclerc stopped to put on a new set of hard tires.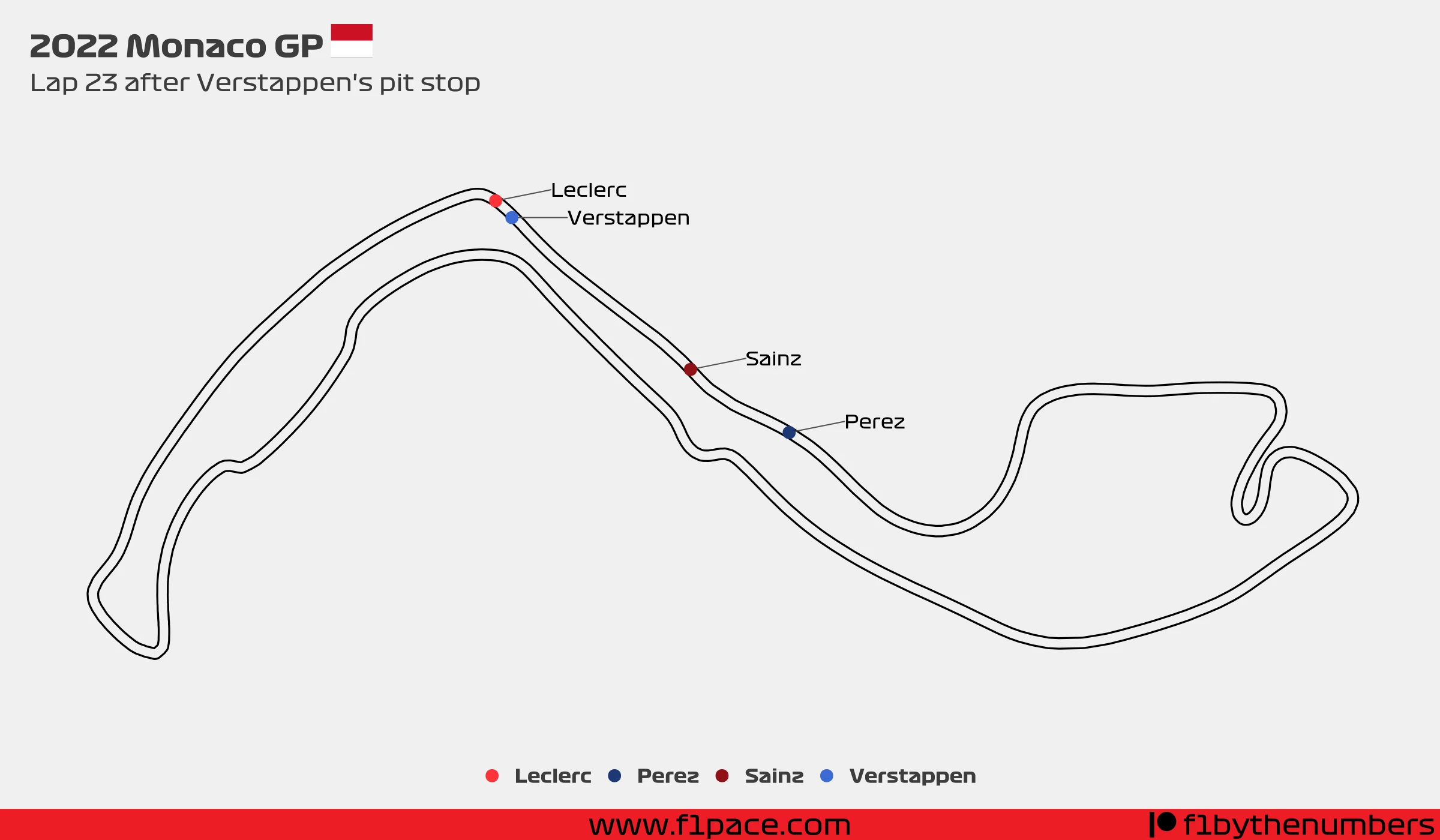 As you can see, the distance between Max and Charles was short. Very short. Without doing hard math, I dare to say that the delta was of less than 3 seconds. Having said that, all this wasn't necessarily caused by Albon, but also by Ferrari's poor strategy.
The strategy strikes back
Let's take a look at the time the top 4 drivers spent in the pit lane.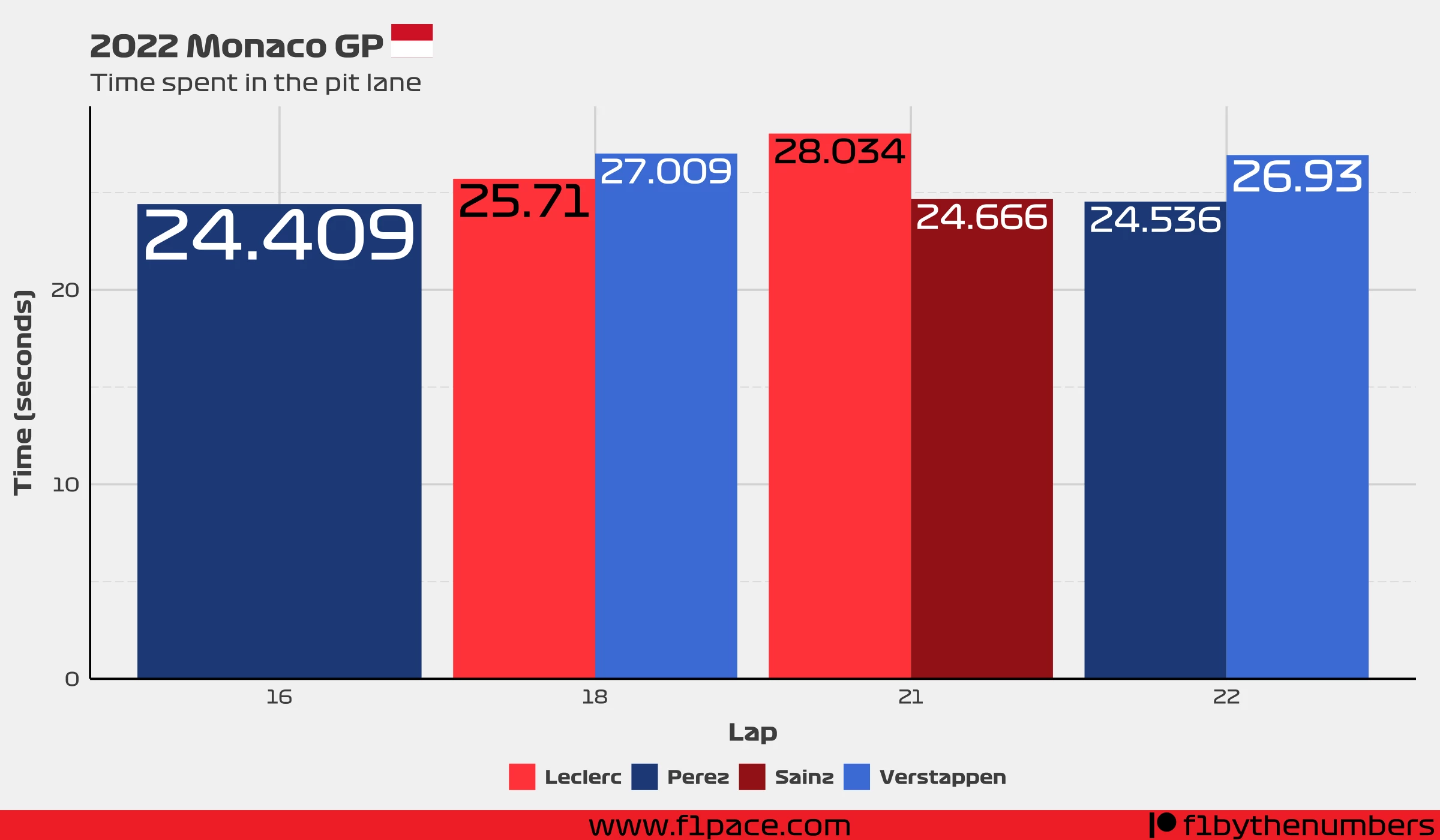 Perez's side of the garage had a great race. Checo only spent around 24.5 seconds in the pit lane. But what about Leclerc? His first pit stop was not great, but not bad. He spent a total of 25.71 seconds in the pit lane, which was still less than Max spent on laps 18 and 22. His stop on lap 21, however, was not good enough. His effective pit stop time was actually faster than Verstappen's—3.24 for Max vs 3.05 for Charles— but he still lost 1.104 seconds against Max in the pit lane. Double stacking the cars cost Charles precious time that would've most likely put him ahead of Max on lap 23.
Final remarks
Charles Leclerc had a day to forget. After qualifying in pole position, things were looking good for the Monegasque. On Sunday, a bad strategy, as well as some unfortunate circumstances, cost Leclerc a better finishing position.
I believe Charles lost the race against Checo by not responding to Red Bull's strategy quickly enough. Checo stopped on lap 16, while Charles waited for an extra lap before stopping on lap 18. Sergio responded with a blazing fast 18th lap, forcing Ferrari to have a perfect stop. What happened, however, is that Leclerc lost even more time in the pit lane against Pérez. By the time Charles exited the pit lane on lap 18, Sergio already had the positional advantage.
Since Carlos Sainz only stopped for new tires once, Charles also lost a position against his teammate. Then it was all about beating Max Verstappen. Unfortunately for Leclerc, he got stuck behind Albon on lap 20 for at least 2 seconds, but most likely between 3 and 4 seconds. Finally, he had a horrid pit stop on lap 21 in which he lost an additional second against Max. While a second may not seem like much, it was perhaps the difference between 3rd and 4th place.
While many have talked about Albon's incident, in my opinion, most of the fault of Leclerc's fiasco lies with Ferrari. They made a mistake by not responding to Checo's early pit stop, which cost him track position. Then they did a double-stack pit stop with him and Sainz, costing him additional time, which perhaps was worth a 3rd place instead of a 4th position.
Sure, Albon's incident was crucial as well since without that lost time he would've still taken at least 3rd place, so yes, Albon was in the wrong too and I think should've been penalized for ignoring the blue flags.
P.S.
This article took me a lot longer to write than I was anticipating. I changed my mind about the main focus of the article a few times, so the train of thought may have been a little messy. Having said that, I worked hard to make it informative for you. I hope you have enjoyed it.
If you liked the article, please share it on social media, as well as with friends and other people who may be interested in the statistics of Formula 1. If you want to support me even more, I would really appreciate it. Just click on the "Buy me a coffee button" or donate directly with PayPal on my About page and that'll allow you to donate some money to support me and my project.